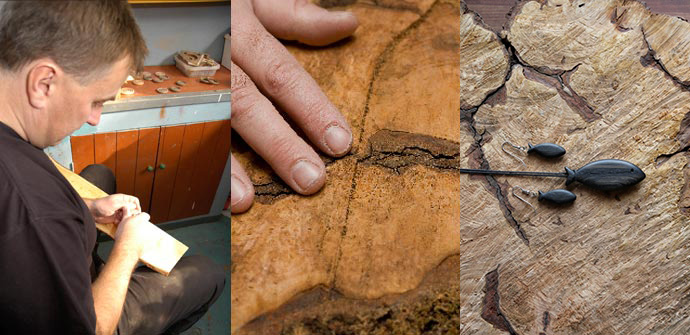 Peter Lindberg has worked with wood for 20 years. He founded Träbiten in 2006, and has specialized in handmade wooden jewellery.

With a careful hand he exposes the specific character of the wood, making each piece of jewellery unique, with a velvety texture that only a craftsman´s skill of wood can create.

The entire process, from a piece of wood to the finished product, is done by Peter. By hand. Of the highest quality. With the lowest possible impact on the environment. The jewellery is treated simply with paraffin oil.
Peter mostly uses wood from Åland, such as alder, birch, maple and fruit trees. Combining several wood types, he creates pieces with contrasting shades and colour combinations. Products include bracelets, necklaces, earrings, tie pins and cufflinks.

Each piece of jewellery in the Pommern collection is created with wood from the ship's old deck.

Peter also creates custom made jewellery, taking into account the customer´s personal wishes. "I get the most enjoyment when creating jewellery from a piece of wood provided by the customer".
Peter Lindberg
Båtnäsvägen 4, 22100 Mariehamn Åland Mobile: +358-400-744942 E-mail:
peter.lindberg@trabiten.ax